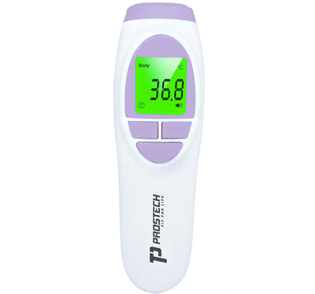 PROSTECH DEMO VIDEO
An eight minute demonstration
Take your baby's temperature easily and safely with our PROSTECH digital non contact infrared thermometer.
You don't have to worry about hurting your child when sticking a thermometer in their ear or under their armpit. You don't have to stress whether or not your baby's temperature is in the danger zone or not.
Instant results. Know your baby's temperature in 5 seconds.
Safe and easy to use. No contact required. Reads temperature from 2 – 5 cm away so no matter if your baby is crying or uncooperative, you can take the temperature easily.
Hygienic. Read the temperature of multiple children without the fear of cross contamination.
Easily accessible records. Thermometer stores up to 50 readings so you can track the health of your baby safely and efficiently.
Let your baby sleep soundly. You can read the readings in the dark, so you won't wake your baby.
Avoid panic and confusion. 3 different colour displays - normal, slightly elevated and fever temperatures. Know instantly if your baby is unhealthy
Protect your whole family. Use the thermometer for all members of your family – not just babies – to make sure everyone is healthy
Make your life easier. Use it to check the temperature of bath water, milk etc. No need for multiple devices.
Read what's comfortable for you. Both Celsius and Fahrenheit measurements included.
Conserve battery. Automatically powers off to save your batteries.
Convenient small size. Easy to clean and easy to keep with you.
Instructions come with the product. A full colour manual in English.
It does not annoy the child by being stuck in the ear canal and is never going to be incorrect due to ear wax and insufficient straightening of the ear canal, tympanic ear thermometers often have this problem.
It is recommended that the temperature should be measured over body surfaces which are not perspiring or covered by hair in a draft-free room at a constant temperature between 16°C and 40°C.