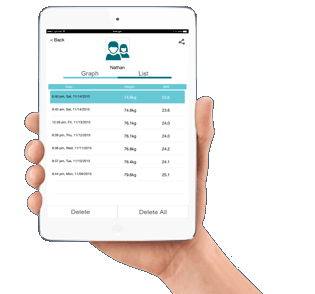 These PROSTECH scales have been an Amazon USA best seller since 2014 - search for Easy@Home brand - over 400 reviews. Available for the first time locally in New Zealand & the UK with a better design.
Track your weight, BMI and six other measurements on your iPhone, Android or iPad with this Body Composition Analyser which uses Bluetooth.
With a large easy-to-read back-lit display, these scales will take your measurements quickly, and transfer all data to your iPhone or Android through Bluetooth®, with a free app. On the iPhone this will transfer through to the inbuilt 'Health' app, which can combine all your health data from running apps and other Bluetooth devices also.
As soon as your weight is measured, the device will turn off to save the 4 AA batteries for many reads. Up to 10 users can keep track of their individual measurements, with graph and list view for all measurements. For some measurements, you will need to take your shoes off, with the body weight being what displays on screen. A full user manual will guide you through installation and use. As with all scales, it must be used on a flat hard surface. It is a stylish toughened glass platform.
We have a money back guarantee, so why don't you follow the link above - we guarantee you'll be happy with your purchase.